Some nice Canadian trips for adventurers
Many people love to go on exciting holidays and enjoy doing sports whilst they do so. There are many different great holidays to enjoy and one of the most popular is that of the canoeing and kayaking holidays that you can enjoy in wildlife areas such as that of Canada. The location of Canada offers a range of beautiful rivers and mountains that are all contained in wonderful areas of wildlife. In this article we will take a look at some of the areas that are offering holidays within Canada and we will also outline the features and benefits of these areas.
The Yukon Rivers offer a tranquil but challenging set of river trips that will take you through some of Canada's most beautiful settings. Whether you wish to go for several days, or whether you want to stay for longer periods, there are guides and holidays that will be able to meet your needs. The most popular route on the Yukon river is that from Whitehorse through to Dawson city and this will take place along the Teslin river. However, if you are feeling more confident, there are other routes such as that of the Big Salmon and the Macmillan that will take you on more adventurous trips.
The Bowron lakes offer a circuit around mountain areas and these offer a selection of rivers that are connected through 11 different lakes. This area offers amazing scenery that is both dramatic and beautiful and is popular with canoeists that are on an experience level, as well as for those that are more novice in their skill level. The area is also very popular for photographers and this is due to the amazing views that are on offer. This route will require you to stay in log cabins and these can be particularly beautiful, offering views of the lakes with facilities for picnics and showers. Search the Internet for more information regarding prices.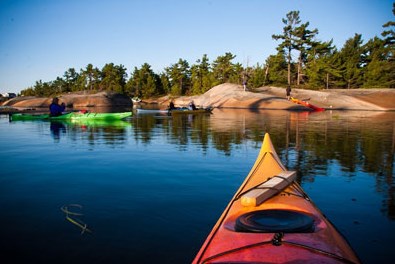 The golden triangle is another excursion that you may wish to take and offers camping opportunities and canoeing opportunities through a beautiful selection of scenery. When you take this route you will explore the true forests within Canada and will do so via the beautiful rivers that run through these areas. The location offers a very relaxing and stress free experience and can be a great choice for those that want to relax and get away from the busy routine of daily life. This wonderful trip will require you to fly to Montréal and you will then need to hire a car to get to the location. It will cost around £1000 per person and you will then have eight days in which to enjoy yourself.
Ontario is a location in Canada that has breath taking wildlife and is popular for many individuals who wish to make their way through the area whilst enjoying the sights. If you get sick of the wildlife you can also visit Toronto, which is a cutting edge city that is full of art, culture and night night.